Festival Foods' Salute to the 4th at Celebrate Onalaska!
Get your family and friends together, come to either Grandad Bluff or Pettibone Park and shoot some shells every night (except Christmas Eve, Christmas Day and New Year's Eve) at 6 pm.
Suggested donation is $25 per shot, with the proceeds going towards putting on the New Year's show. Click here to see the availability calendar. Click here to sign up for a date.
Thanks for being a part of one of the longest running New Year's Eve fireworks celebrations in the United States!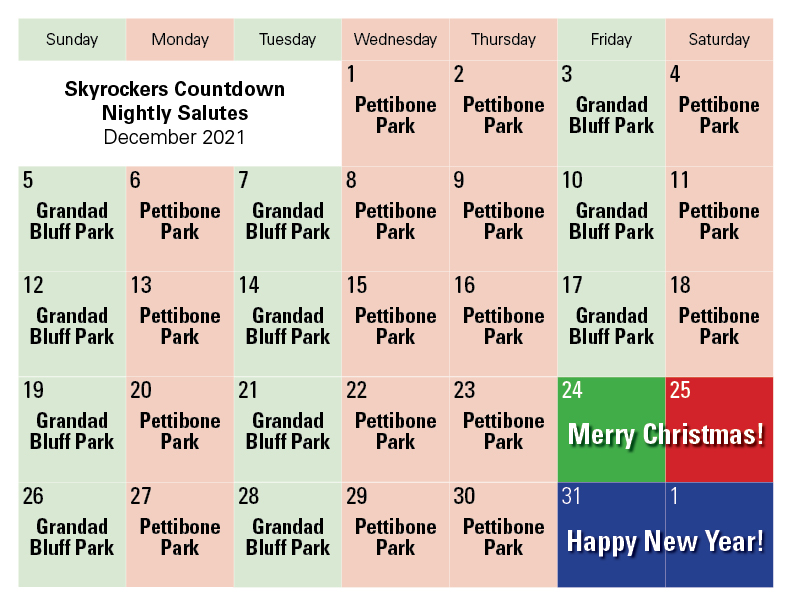 Greetings, Skyrockers Fans!
Here are some dates to write down as we approach the end of 2021 and usher in 2022, Skyrockers style!
Friday, November 26: Rotary Lights Opening Night Fireworks Display
Saturday, November 27: NLBA: Lights Over North La Crosse Display
The Month of December: Nightly Countdown to the New Year with the Skyrockers
Saturday, December 4: Open House with the La Crosse Skyrockers
Friday, December 31: 6pm show and midnight shows to usher in 2022!
Feel free to reach out to us on Facebook or via our "contact us" section if you have any questions.  We hope you enjoy our shows!